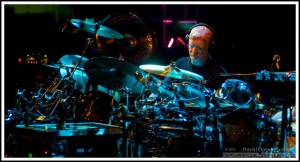 One of the most technical and influential drummers in the world of rock is part of the dynamic duo called: THE RHYTHM DEVILS (Mickey Hart being the other half) was the first drummer to become a member of the Grateful Dead. He has performed with this hard rocking touring group for over 50 years. He is a somewhat quite person and many people do not realize the great contribution he has given to music over these 5 decades and he is still going strong.
In his youth, he wanted to play drums and in fact his music teacher actually threw him out telling him he was unable to keep a beat. Determination and hard work certainly proved this teacher wrong. If you have a calling sometimes the nay Sayers are not always correct. Bill took lessens from another teacher and he kept time with his mother when she was choreographing dance routines. You know the rest.
Bill Kreutzmann is also well known for his wonderful paintings and uses digital compositions in his art. In addition, like Jerry Garcia he has great love for the oceans. He has also authored an autobiography called "Deal"…definitely worth a read. He has had solo projects namely 7 Walkers as well as Billy and the Kids.

painting by Bill Kreutzmann called From the Heart