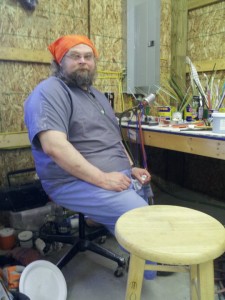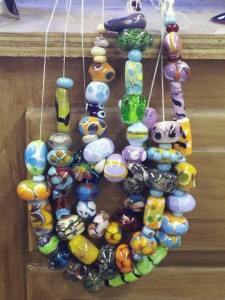 Seth and I had the pleasure of recently attending The 11th annual Art Glass Invitational (AGI). It is an annual week-long event held in western Pennsylvania to promote education and camaraderie within the glassblowing community.
We have to pack up and bring our studio workshop with us in a van… torches, glass, tools of the trade and chairs to set up a makeshift workstation for the week. There are demonstrations and lectures from some of the world's best blowers… about sculpture, chemistry, safety…everything! It was our 10th consecutive year and we will no doubt be there next year too.
Seth and I have been glassblowing… and making glass beads for nearly 2 decades. I was previously a welder creating and sculpting metal art since the mid 1960s. I fell in love with an exotic car and gave up my garage space for it, so I had to find a new interest to love with less space. Salem county college offered glassblowing courses, so Seth and I took classes there and met so many wonderful mentors including Paul Stankard and Emilio Santini. What inspirations! We built a free-standing studio behind our home where we try to make time to work at our craft when we are not attending to our friends and family at WTC daily.
Beads are in their own right a visual and tactile experience. To take a rod of colored glass, get in on a mandrel, add other colors, mix other elements and ultimately create designs as it transforms from solid to molten to a unified work of art…it is amazing. It's just delicious!
Beads are a fascination to mankind, it's one of the oldest crafts and industries in the world. Beads are a primitive adornment depicting status in the community, even when clothing was scarce. We adorn our bodies. We adorn our houses. Beads are a very integral part of humanity. They are spiritual in nature, really. What defined the 60s? Hair, sex, rock n roll and beads! The strands of love beads defined the hippie look along with tiedyes and flowing skirts. Beads are a part of Rock-n-Roll history. And that's what we're about here at Woodstock Trading Company.
People are attracted to certain colors or patterns. It's an experience to choose your palet and intention when creating jewelry or adornment. Some are one-of-a-kind, others are manufactured, but they are all beautiful. It's an art…anything that you can put a hole in it or wrap a wire around it and tie a string. That's the art of beading.
We have a wide bead selection that we sell exclusively through the store. So many are original works of art, so to post it on the website to sell would be a painstaking effort to keep up with inventory as each individual one sold out. Perhaps someday we will do it.
In the meantime, come on by! We can Bitch 'n Bead together!
Much love…"Mom"