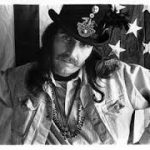 One of the icons of psychedelic art, Alton was born Jun 17, 1940 in Houlton Maine. He spent his childhood in Connecticut.  Art was his passion and he honed his craft at art schools in Philadelphia and New York.  His career blossomed in San Francisco where he lived in Haight-Asbury which was the nucleus of rock music and art.
Alton's collaboration with Stanley Mouse in 1966 gave both artists a chance to merge their talents.  They developed distinctive images we all recognize.  They worked in a unique side by side at their drawing tables with Mouse on the right side since his drafting skills were stronger with Kelley doing layout.  Mouse and Kelley worked quickly producing a poster a week.  They produced album covers for the Grateful Dead, Steve Miller Band, Quicksilver Messenger Service, Jimi Hendrix as well as poster for the Avalon Ballroom and the Fillmore.  The last time they collaborated for the cover art for the induction ceremony at the Rock & Roll Hall of Fame in March 2008
We lost Alton Kelley in June 2008.  Mint condition posters are selling for thousands of dollars.  It is a testimony to the fame Alton Kelley never dreamed of having.
Mom & Seth had the opportunity of meeting Alton Kelley at a rare gathering of famous Psychedelic artists in San Francisco in 1989.  It was a thrilling moment in time never to be duplicated.